A value-centric approach
iGaming supplier Play'n GO is a company with concrete values, describing its own mantra of "Trust, Energy, and Quality" as "small words with a big impact." The effect of those words can be seen in the firm's consistent production of exciting games that keep players coming back for more.
featured in SOTW almost 30 times
Unsurprisingly, Play'n GO is one of the most regular contributors to VegasSlotsOnline News' Slots of the Week (SOTW) roundups. Since 2018, the European company's games have been featured in SOTW almost 30 times – from the five-year-old Street Magic to new addition Pilgrim of Dead.
VSO News finally got a chance to sit down with one of the Play'n GO team to discuss the company's unique approach to game design. Edward Eklund, the company's affiliate manager, explained the company's strategy while making clear that the work is far from over.
Firstly, can you tell us a bit about your role at Play'n GO?
Of course! I am the affiliate manager for Play'n GO; so, amongst other things, my main role is to be the point of contact for affiliates and streamers. I play a part in initiating promotions with other affiliate managers on the operator side for their affiliates and ultimately players too.
You've been in the business for around ten years now. What is your favorite thing about working in the iGaming sector?
Ever since starting in the industry in 2013, I've had the privilege of working on both the operator and provider sides which gives me a wide perspective of the industry. I enjoy the industry's willingness to explore as well as try different ways of marketing, seeing the value of learning and adapting to this industry.
putting the slot front and center"
The industry is creative from a technical and audio-visual standpoint. Furthermore, it is very data-driven both in terms of its marketing as well as the development of games and tools.
The rise of streamers has added a new dynamic, putting the slot front and center, catering to both casual players and slot enthusiasts. It also provided the players with a community of experiencing slots together with other people.
Being in the industry for a decade now, I have been happy to see how common regulation has become. It is a sign of the maturity of the industry and is in line with the long-term strategy of Play'n GO.
In that time, you must have seen the iGaming industry grow substantially. How does Play'n GO stand out in what is now such a crowded sector?
I think we naturally stand out in this industry and that stems from our company values of 'Trust, Energy, and Quality.' We started our journey as a small start-up game supplier in Sweden. Now, we're a global business and drivers in the industry.
Big, bold branding is something that I think is key to any company's success. If you visit Play'n GO's website, you're likely to be met by a flurry of colors and characters. It's really exciting and makes you want to delve in!
we make high-quality games that players enjoy"
And an even simpler answer is that we make high-quality games that players enjoy. We give them what they want and naturally they come back for more.
Is there something in particular that slot players want from their games?
I think that like with any sector in the entertainment industry, players want to be, well, entertained.
We look at the bigger picture when it comes to choosing what games to develop, their theme, the way they work. At Play'n GO we pride ourselves on having a diverse portfolio full of something for everyone.
Now, onto Pilgrim of Dead – one of your latest slots. Can you explain a bit about the game?
Well, the story follows a lone pilgrim as he wanders through the underworld in search of the Book of Life, encased in a mysterious tomb. The player must help the pilgrim open the tomb to reveal the book and journey to paradise, and of course, find other hidden riches along the way!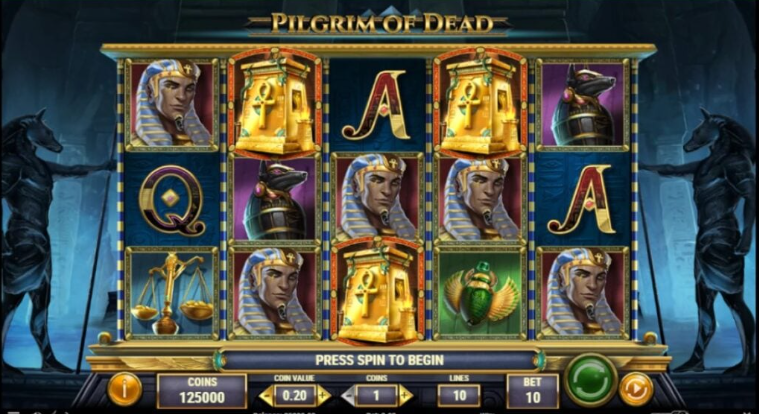 I think Book of Dead fans will be hit with a wave of nostalgia. Players will spot familiar traits play out on the reels, such as expanding symbols. They'll also be greeted with a new twist in the one-time re-roll opportunity, choosing to roll the dice for a potentially higher-paying symbol, giving gameplay a fresh layer of mummified mystery!
Once they've given Pilgrim of Dead a go, what other Play'n GO games should our readers try their hand at?
There are so many to choose from. Personally, my favourite slot since starting in the industry is Golden Ticket, which was released in 2014 and is still one of our best-performing games.
Another great title is Star Joker, which features a tutorial at the beginning that takes the players through the features and how they're unlocked step by step, which they can then apply to other titles that may have more complex features.
the animations are out of this world!"
Reactoonz titles are also a great introduction to grid slots and charge metres. It's really easy to see winning clusters when they appear on the reels and are added to the charge metre to unlock new features. Plus, the animations are out of this world!
Sweet Alchemy is also a fab grid slot that has progressive levels and encapsulates that sweet, candy-inspired theme that players love.
I could go on…
What's next for Play'n GO?
This really is a time of growth for Play'n GO and we've packed 2023 to keep that momentum up. We've closed 2022 having entered several new regulated markets including the US, Canada, Netherlands, Greece in addition to re-entering Georgia – and we're only just getting started.
We're drivers in the industry, so we'll continue to push premium, fun and responsible content that's sole purpose is to entertain, while also collaborating with others in the industry to look at both the regulatory opportunities and challenges around the world.
The post Play'n GO Exclusive: "This Is Just the Beginning of the Play'n GO Story" appeared first on VegasSlotsOnline News.